There always seems to be a lot of talk about how high home prices are in Australia's housing markets.
Well…how do we compare to the rest of the world?
The Australian Financial Review produced 5 graphs based on new data from the International Monetary Fund looking at household income, rent and housing prices around the world to show just how much house prices have jumped in Australia.
Here's what they said:
The data shows that based on two measures – the ratio of house prices-to-income and the ratio of house prices-to-rent – Australia's housing markets prices have risen well beyond their long-term average and at a higher rate than most other countries in the world.
The house price-to-income ratio, a measure of the relative expense of a home for a typical household, shows Australian house prices have increased almost 31.6 per cent above the long-run average.
This ranks as the third-largest growth above the long-run house price-to-income ratio in the world, behind Belgium (49.5 per cent) and Canada (33.2 per cent).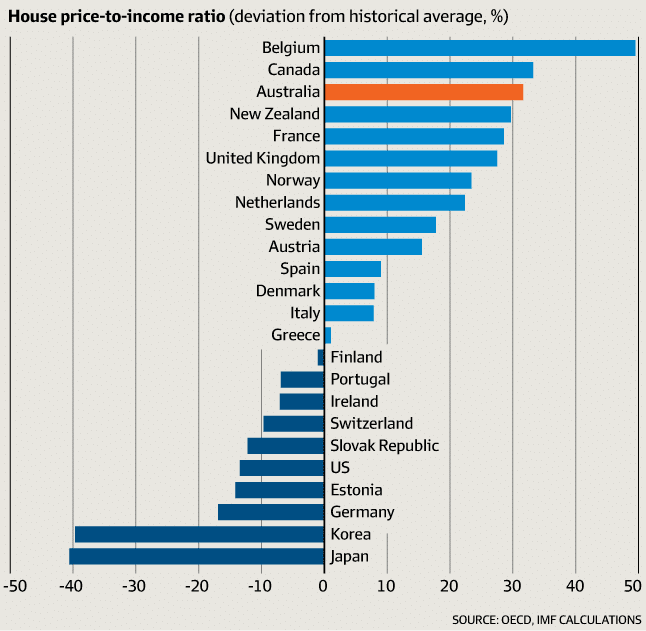 The price-to-income ratio has stayed above four times the annual household income in Australia in the past decade, well up from the average of between two and three in the preceding decades. 
The house price-to-rent ratio, a measure of the comparative cost of renting or buying properties, shows Australia's ratio has risen 54.9 per cent above the long-run average.
This means the increase in house prices, relative to rents, in Australia has been the fifth highest in the world.
Overall, the annual growth in Australian house prices has been about 6.6 per cent, the 11th-fastest growing price growth rate in the world.
The growth in Australian house prices can be partially explained by our record low interest rates.
But the fear is that when the Reserve Bank normalises interest rates, house prices are likely to fall.
My thoughts:
I agree that our house price growth has in large part been fuelled by our low interest rates.
But there have also been other factors at play:
Our population has been growing strongly, as has overseas immigration and most of these people are moving to our 4 big capital cities.
We started this property cycle with an under-supply of properties and therefore a need to build more dwellings.
Investors have driven this cycle taking advantage of the security of property and low interest rates. This time round property purchases in SMSF's and foreign investors have been competing with local mums and dads at a time when there was little "investment grade" stock on the market.
We're now 2 years into the growth phase of this property cycle and the major capital city property markets are showing signs of having moved through the peak of their growth.
Now this doesn't mean no further growth. It means less capital growth and the need to more careful due diligence and research.
This is NOT the time in the property cycle to buy off the plan, house and land packages in new estates or properties in "mortgage belt" areas that will suffer when interest rates rise.
However, in my opinion, it is still a good time to by well located "investment grade" properties and manufacture some capital growth through property renovations or development.