The latest housing market results showed dwelling values held firm nationally, with capital city dwelling values nudging higher over the month, while regional values slipped lower.
With the spring selling season kicking off in September, it will be interesting to monitor the impact of higher inventory levels on the market.
We've included the national property market video below, along with a transcript.
Also, you can get acquainted with local reports for Sydney, Brisbane and Melbourne.
Welcome to Core Logic's update on the housing market for September 2017.
This month we've launched the new generation Core logic hedonic indices, which provide a further improvement on the market leading hedonic valuation model that Core Logic's been using to measure housing market conditions since 2006. The latest housing market results showed dwelling values held firm nationally, with capital city dwelling values nudging 0.1% higher over the month, while regional values slipped to 0.2% lower.
The flat result provides further evidence that the housing market is losing steam and has likely moved through the peak phase of growth. In fact, based on the rolling quarterly rate of growth the housing market moved through its peak phase in November last year, when dwelling values were rising at the brisk quarterly pace of 3.7%. Since that time, the quarterly rate of growth has eased back to just 0.5% over the three months ending August 2017. That's the slowest rolling quarter of growth since June of last year.
The slowdown in growth conditions is most visible in Sydney, where housing values had been growing strongly since values started rising in 2012. The typical Sydney dwelling has seen its value rise by 75% equating to an approximate dollar value gain of $521,000 on the median dwelling valuation. The quarterly rate of growth has peaked over the three months ending October 2016, when Sydney dwelling values jumped by 6.3 %. Since that time the rolling quarterly rate of appreciation and values has consistently eased, reaching a current rate of just 0.3%.
In Melbourne the housing market's been more resilient to a slowdown. This is evident in the hedonic index results, as well as auction clearance rates which have consistently been above 70%. Inventory levels also remain exceptionally tight across the Melbourne market. Melbourne's quarterly rate of growth has slowed since peaking at 4.4% in November last year. However, the most recent three-month period has seen dwelling values rise by 1.9%, which is substantially higher than Sydney's pace of capital gains.
Hobart tracking ahead, turbulent times for Perth and Darwin
While the trend in capital gains is eased across the largest capital cities, in Hobart the markets actually gathered some momentum, with the annual pace of capital gains now tracking at 13.6%. That's the highest of any capital city. The annual growth rate for Hobart hasn't been this high since 2004. The sheer affordability of housing is likely to be one of the key drivers of Hobart's value appreciation. With a median house value of just $403,174 Hobart's houses are a half the price of Melbourne's, and they're almost two thirds lower than Sydney house values. In addition to the strong capital gains, Hobart rental rates have also risen, providing a solid rental yield and pushing the total return well beyond the other capital cities.
In Perth and Darwin, housing values have continued to trend lower over the past month and over the rolling quarter. However, the annual trend highlights that the rate of decline has been easing. Since peaking in 2014, Perth dwelling values have declined by a total of 10.8%, while the cumulative decline across Darwin has been more severe with values down by 18.6% from the market peak. A variety of other measures have softened in line with the easing in capital growth. Auction clearance rates have found a new floor around the high 60% mark, where they've held consistently since early June of this year. Average selling time is starting to trend higher and inventory levels are also rising, providing buyers with more options and reducing some of the urgency that some buyers were feeling when stock levels were much lower. Additionally, growth in investment lending appears to have peaked close to the same time that the rate of value appreciation peaked in December last year. That's when investor related credit was increasing by 0.8% over the month. Since that time the monthly trended investment related credit has halved, reducing down to 0.4% in July.
Overall slower growth conditions
Overall, slower growth conditions in Sydney and to a lesser extent in Melbourne are likely to be a welcome evolution in the housing market's performance by policy makers such as the Reserve Bank. So far the cooling trend has been gradual, implying that macro prudential policies are having a flow-through effect on housing market conditions. The growth cycle in both cities has run for five and a half years now, providing a substantial wealth boost for homeowners but also creating much frustration for those who don't own a home. Sydney and Melbourne running values have increased by 75 and 56% respectively since the growth cycle commenced in early 2012. However growth rates have been far more moderate across the other capital cities. The policy settings around investment credit growth and new interest-only settlement targets have seen credit policies tighten, and they've pushed mortgage rates higher for both investors and for interest-only lenders. These disincentives are likely to continue to weigh down investment demand, which will have a more pronounced effect in those markets where investors are most concentrated. New South Wales has the heaviest bias towards investment, with 58.5% of the value of all housing finance commitments being for investment purposes. Clearly, its harder credit policies and higher mortgage rates for investors are dampening the Sydney marketplace more than others.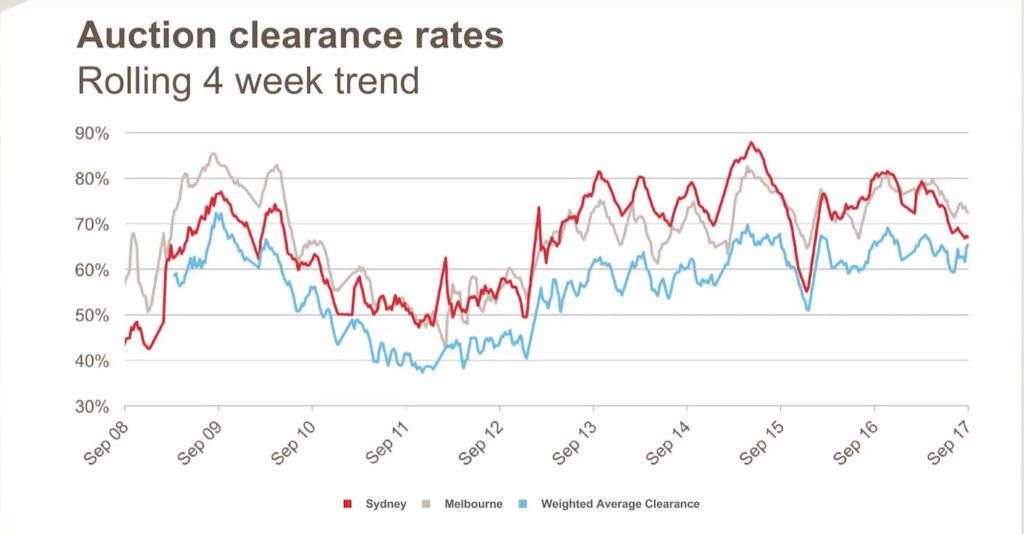 Another contributing factor to slower home value appreciation is the high price of housing relative to incomes, particularly in Sydney. Affordability barriers are preventing some prospective buyers from participating in the market. The recent availability of stamp duty concessions in New South Wales and Victoria is likely to provide some support for first-time buyers, but it's not likely that a rise in first home buyer activity will completely offset the demand gap left by fewer investors.
Overall, the outlook for Australia's housing market depends on a broad range of factors including local, economic and demographic conditions, as well as supply factors and credit policies. However, if the current trends continue, Sydney dwelling values could start to drift lower over the coming months. Historically, a negative shift in home values has followed every growth phase so it's reasonable to expect a period of moderate value falls following such a sustained period of strong capital gains. With the spring selling season kicking off in September, it will be interesting to monitor the impact of higher inventory levels on the Sydney and Melbourne market, especially given evidence of slowing growth conditions accompanied by stock levels that are already higher than they were a year ago.