Please use the menu below to navigate to any article section:
The bathroom is up there with the kitchen as one of the most expensive rooms to decorate, especially if you are refitting it completely.
But there are ways to add new life to the smallest room without breaking the bank, and you'd be surprised how far small improvements go.
A bathroom with a sleek, modern design is both practical and luxurious – just the two characteristics most people are looking for.
Even if you're renting your home and can't make big changes there are still some nifty touches you can use to bring out the shine in your bathroom.
Here are some ideas to help you transform your bathroom into a modern masterpiece.
Mood lighting
Let's start with probably the most expensive option (beyond refitting the bathroom entirely).
Mood lighting sets the scene in any room, and the bathroom is no different.
It's important to strike a balance between soft, relaxing lights to help you chill out and bright, practical lights for everyday use.
Swap out the existing ceiling fitting for something grander or subtler, depending on your taste.
Spotlights can work well both for mood and for practical purposes.
Be sure to consult with an electrician to help you install your lighting so you can enjoy it safely.
Mirror, mirror
The possibility of mirrors is often overlooked.
A mirror is essential to a bathroom, and yours probably came with one.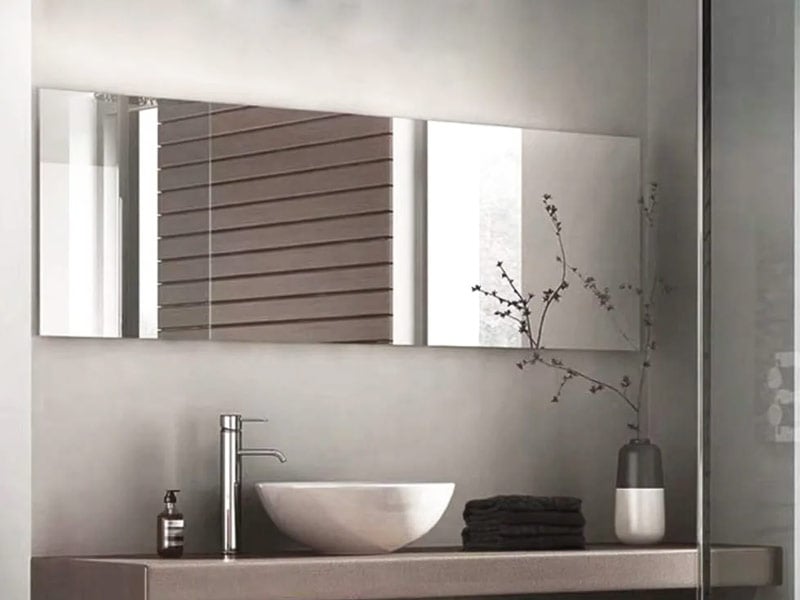 It's easy to forget that you can (and probably should) swap out the mirror at some point.
To modernize and revitalize your bathroom consider a custom made mirror.
These can be any shape or size to suit your bathroom design and can be with or without a frame depending on your preference.
Some mirrors can also contain bulbs in their frames to eradicate the need for a spotlight for shaving and other close up mirror activities.
Replace bath mats and shower curtains
Nothing brings a bathroom down more than some shabby old details which have been overlooked.
Replacing a worn-out old bath mat or a tired old shower curtain is both an inexpensive and extremely easy way to fire some new life into the room.
Whether you opt for bright, vibrant colors or those which will fade sympathetically over time, a new rug or curtain will revitalize any flagging bathroom immediately.
For those wanting to splash out (no pun intended) the possibility of a beautiful woven Persian or ornamental rug is more realistic in the bathroom due to the smaller floor space.
Decluttering and storage
Clutter is a sure-fire way to make a room less appealing to the eye and less relaxing for the mind.
The bathroom is no different, so when you are decorating assign places for towels, robes, cosmetics, and toiletries.
Keep your cotton balls out of site, place your toothbrush in a tumbler and your soap in a dish.
While these additions may not be noticed immediately, they have a significant impact on the look and feel of the bathroom.
It's possible to have bathroom furniture that doubles as storage – make sure you use every inch of the room for something useful (and keep it tidy).
Walls
Maybe that your bathroom just needs a fresh lick of paint to brighten it up?
Use light, optimistic colors like yellow, or pastel shades to set the mood you desire.
Aquatic colors are always pleasing in a bathroom, so think turquoise, aquamarine blue, and deep green.
Remember to coordinate your choice with your bath and sink (if you're not replacing them).
Maybe wallpaper would suit your bathroom? This is a bit more costly than painting but extremely effective.
Depending on the size of your bathroom you could just paper one accent wall with a strikingly designed wallpaper – this is both vibrant and cost-effective.
Seating
If you have space, equipping your bathroom with somewhere to sit really adds an effortless grandeur to the decor.
Having a seat in the bathroom feels decadent and expensive, and why cut your toenails sitting on the toilet when you could be relaxing on your own ottoman? Raw wood and soft upholstery add depth and dimension against hard tile and stone for a well-balanced scene.
There are countless tips and tricks to upgrade your bathroom at a low cost, and without sacrificing elegance and taste.
Just a few well-made adjustments can really bring out the shine of the smallest room in your home.