Please use the menu below to navigate to any article section:
Many couples decide to leave expensive, busy cities such as Sydney and Melbourne when they start a family, and Brisbane is a popular choice for those looking for a more relaxed spot to bring up their kids.
Brisbane has it all: great weather, greater housing affordability, and plenty of things to see and do.
But choosing a place to live when you have children comes with added complications you might not have considered when it was just the two of you, such as where the closest childcare centres are, which schools have a good (and bad) reputation, and how many parks and sporting facilities are nearby.
There are definitely some areas of Brisbane that parents would prefer to avoid, so how do you choose the right suburb for your family? 
We've looked at amenities, schools, house prices and crime rates to help you decide.
1. Coorparoo (4151)
Postcode: 4151
Location: Around 15 minutes drive south of the CBD
An abundance of schooling options and a vibrant atmosphere make Coorparoo an excellent place to raise a family.
The median house price for a three-bedroom home is just shy of $850,000, but you can pick up a unit for around $600,000.
Parents can choose from private, Catholic and state schools here, and the suburb is a mix of around half renters, half owner-occupiers, giving it a bit more of a younger, trendy feel – perfect for teens and young adults. The crime rate in Coorparoo is 60 incidents per 1,000 homes, which is less than half the average for Queensland.
2. South Brisbane (4101)
Postcode: 4101
Location: A few minutes drive south of the CBD
While there aren't any local primary schools, there's Brisbane State High School, along with the P-12 girls' school Somerville House and the boys' Catholic college, St Laurence's, in the suburb. It's also home to the Queensland Children's Hospital and the associated school that caters to children affected by long-term hospitalisations.
You can buy a two-bedroom unit in South Brisbane for less than $550,000, a bargain considering you'll be living less than 2 km south-west of the CBD.
There are also loads of public transport options for those who commute. If you have older children, both Griffith University and Southbank Institute of Technology are in South Brisbane, so it's an excellent spot for tertiary students.
3. Kelvin Grove (4059)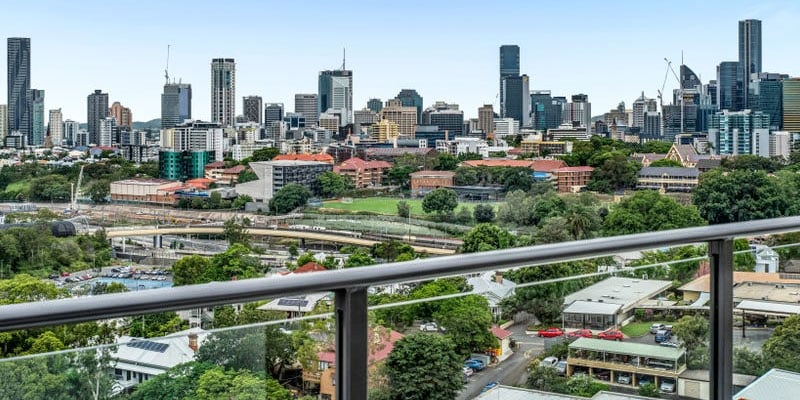 Postcode: 4059
Location: Around 10 minutes drive north-west of the CBD
Kelvin Grove is home to Kelvin Grove State College for Prep to Year 12 students, and the selective-entry Queensland Academy for Creative Industries, which offers an International Baccalaureate program for Year 11 and 12. There's also a campus of the Queensland University of Technology, making it one of the best suburbs in Brisbane for families.
Accommodation in Kelvin Grove is a mix of apartments and classic Queenslanders, and the suburb is located approximately 4km from the centre of Brisbane. The median house price for three-bedroom homes is $870,000, but there are also plenty of units in the $500,000 to $600,000 range.
The crime rate is below-average at 73 crimes per 1,000 properties, and there are lots of excellent parks for the kids to play. E E McCaskie Oval and Grey Gums Park are the popular spots, both boasting playgrounds, barbeques, outdoor fitness facilities and even table tennis tables to enjoy.
4. Victoria Point (4165)
Postcode: 4165
Location: Around 50 minutes drive west of the CBD
Located around 30 kilometres from the Brisbane CBD, Victoria Point is popular with families and retirees for its quiet, laid-back vibe. There is plenty of shops, a library, a cinema and loads of dining options, along with three public and two private schools, and a YMCA Vocational School campus. This family-friendly outer Brisbane suburb is definitely worth a look for those escaping the big smoke of Melbourne or Sydney.
One of the key reasons for its popularity is affordability – you can pick up a four-bedroom home here for less than $600,000, or a unit for around $450,000. Owner-occupiers make up 75 per cent of the residents in Victoria Point, and with a crime rate of just 42 incidents per 1,000 properties, it's extremely safe by Queensland standards
5. Holland Park (4121)
Postcode: 4121
Location: Around 20 minutes drive south of the CBD
Safe, picturesque and just 10 kilometres from the city centre – what more could you ask for? Holland Park has lots of older homes, with more spacious floorplans and larger gardens, so it's ideal for growing families.
There are a number of parks and schools, a library, and great public transport links, so those with older kids travelling to high school or university will be pleased.
The crime rate in Holland Park is 50 crimes per 1,000 properties, well below the Queensland average of 130. The median price for a three-bedroom home is around $850,000, and around two-thirds of residents are owner-occupiers.
6. Sandgate (4017)
Postcode: 4017
Location: Around 35 minutes drive north-east of the CBD
Sandgate is quiet and relaxed – certainly not a spot for movers and shakers of the Brisbane social scene! The suburb is rich in history and boasts great natural spaces, beautiful views and a caring community atmosphere.
Sandgate State School caters for kids up to Year 6, and there is also a co-educational Catholic option for primary school, Sacred Heart. The median house price for a three-bedroom property sits in the low $700,000 range, making it a mid-priced spot, and with 45 crimes per 1,000 properties, it's also relatively safe.
7. Wilston (4051)
Postcode: 4051
Location: Around 15 minutes drive north of the CBD
A home in Wilston doesn't come cheap – a three-bedroom family home will cost you around $1 million – but the lifestyle and amenities in the suburb make it well worth it.
It's close to the Royal Brisbane Hospital, so if mum or dad are employed in the medical field, it's the perfect suburb for commuting. There are also heaps of parks and beachside spots to enjoy with the kids on the weekends.
The crime rate of 67 incidents per 1,000 properties is low by Queensland standards, and at just 5km from the CBD, commuting from Wilston is quick and easy.
8. Bulimba (4171)
Postcode: 4171
Location: Around 30 minutes drive north-west of the CBD
Bulimba is a beautiful water-side community, practically self-contained with everything you could possibly want – cinema, book stores, restaurants, and ferry transport to the CBD.
It's a high-income area and has a reputation for being a bit of a private paradise for those families who can afford the $1.4 million price tag that comes with a four-bed property in the suburb.
There's both a Catholic and public primary school in Bulimba, and with just 52 crimes per 1,000 properties, parents can be reassured it's a safe and friendly place to live.
9. Tarragindi (4121)
Postcode: 4121
Location: Around 20 minutes drive south of the CBD
A moderately-priced suburb in Brisbane's south, the median house price in Tarragindi is $835,000 for a three-bedroom property. There are heaps of parks and sporting reserves, along with a rugby club and medical centre.
For primary students, there's the public Wellers Hill State School and St Elizabeth's Catholic School, but high school kids will need to travel to nearby Holland Park. It's also close to Griffith University's Mt Gravatt campus. The crime rate is 50 incidents per 1,000 properties.
10. Graceville (4075)
Postcode: 4075
Location: Around 25 minutes drive south-west of the CBD
With a casual country atmosphere and plenty of older-style weatherboard homes, Graceville is the place to live if you enjoy the good things in life, minus the snobbery. Despite being full of boutique shops and natural beauty, Graceville is a friendly and relaxed suburb where a three-bedroom home will cost you around $900,000.
There's a public and Catholic primary school, train station and several great parks, including Simpson's Playground and Graceville Memorial Park. The nearest high schools are in Indooroopilly and Corinda.
More than three-quarters of the residents in Graceville own their homes, and the crime rate is well below average at 84 crimes per 1,000 properties.
If you're thinking of moving to Brisbane with your family, we hope this guide helps you find the perfect suburb to call home.