Sydney is home to some of the most expensive properties in Australia, if not the world, and its notoriously robust real estate market has remained impressively resilient against the coronavirus pandemic, with prices even jumping by as much as 24%.
And 2022 was another significant year for Sydney real estate.
Despite property prices cooling from their peak as a result of climbing interest rates and tapering borrowing capacity, there are still some sought-after areas where demand is as high as ever and the prices are still sky-high and are likely to continue to remain so in 2023.
After all, some of the city's suburbs are so tightly held that an available property for sale comes around once in a blue moon with homeowners holding onto their houses for as long as 20 years.
And areas in lifestyle or coastal suburbs are still in particularly strong demand as homebuyers wait to secure their dream property.
The most expensive streets in Sydney
Here is a list of the top 10 Sydney streets with jaw-dropping properties and eye-watering property prices that some of Australia's wealthiest people call home.
| | | | |
| --- | --- | --- | --- |
| Ranking | Street name | Suburb | Highest reported sale for 2021/22 financial year (million) |
| 1 | Lindsay Avenue | Darling Point | $63-67 |
| 2 | Wentworth Road | Vaucluse | $63 |
| 3 | Wolseley Road | Point Piper | $45 |
| 4 | Rosemont Avenue | Woollahra | $45 |
| 5 | Hopetoun Avenue | Vaucluse | $37.5 |
| 6 | Wallaroy Road | Woollahra | $35 |
| 7 | Hillside Avenue | Vaucluse | $35 |
| 8 | Castlereagh Street | Sydney CBD | $35 |
| 9 | Tivoli Avenue | Rose Bay | $35 |
| 10 | Fisher Avenue | Vaucluse | $34.5 |
Point Piper's Wolseley Road has long been considered Sydney's most expensive street and with 308 units, 1 townhouse, 67 houses, and 28 other dwellings, according to Domain data, it's easy to see why such tight supply, why the street fetches such high prices.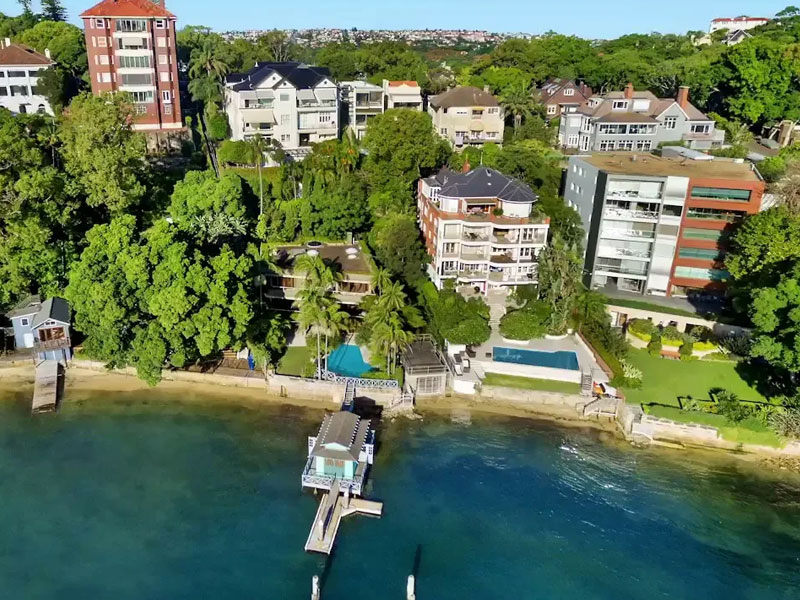 But, for the 2021/22 financial year, the street came in third place for its $45 million sale, and there's another Sydney street which fetched the most expensive sale of the year.
Lindsay Avenue, in the affluent suburb of Darling Point, was home to the highest reported sale in the last financial year – at an estimated $63-67 million.
Lindsay Ave is a quiet and secluded cul-de-sac with only 5 houses and an average holding time of 8 years, so it's easy to see why the street fetches such prices for its properties.
The remainders of the list of most expensive streets are all located in the well-known and high-priced suburbs of Vaucluse, Point Piper, Woollahra, and Rose Bay.
Sydney property prices are down but not out
Sydney's median price for houses now stands at $1.257 million, down 6.1% since the last quarter and down 9.3% over the year.
It's a similar story for units which have fallen 3.3% over the quarter and 6.8% over the year to a new $783,406 median.
As the market cools, the number of home sales has fallen and over the last few months, Sydney auction clearance rates have been rising, indicating more buyers and sellers are reaching an agreement on price.
At Metropole Sydney we're finding that both home buyers and strategic investors are looking to take advantage of the window of opportunity currently available to them, while homebuyers are still actively looking to upgrade, picking the eyes out of the market.
While overall Sydney property values are likely to fall further over the rest of the year and into 2023, like all our capital cities, there is not one Sydney property market, and A-grade homes and investment-grade properties remain in strong demand are likely to outperform, many holding their values well.