Sydney is home to some of the most expensive properties in Australia, if not the world, and its notoriously robust real estate market has remained impressively resilient against the coronavirus pandemic.
2021 was a huge year for Sydney real estate, with prices in some areas of the city soaring higher than ever thanks to sky-high demand, low interest rates, tight supply, and government incentives.
The most expensive streets in Sydney
Here is a list of the top 10 Sydney streets with jaw-dropping properties and eye-watering property prices where some of Australia's wealthiest people call home.
| | | | |
| --- | --- | --- | --- |
| | Street | Suburb | Highest sale (2021) |
| 1 | Wolseley Road | Point Piper | $40m |
| 2 | Wunulla Road | Point Piper | $38.5m |
| 3 | Wingadal Place | Point Piper | $38m |
| 4 | Castra Place | Double Bay | $35m |
| 5 | Thompson Street | Tamarama | $25.5m |
| 6 | Olola Avenue | Vaucluse | $25m |
| 7 | Bulkara Road | Bellevue Hill | $15.25m |
| 8 | Kardinia Road | Mosman | $14.8m |
| 9 | Iluka Road | Mosman | $12.6m |
| 10 | Streatfield Road | Bellevue Hill | $12m |
Point Piper's Wolseley Road has long been considered Sydney's most expensive street, and 2021 was no different with the street securing one of the country's most expensive reported sales.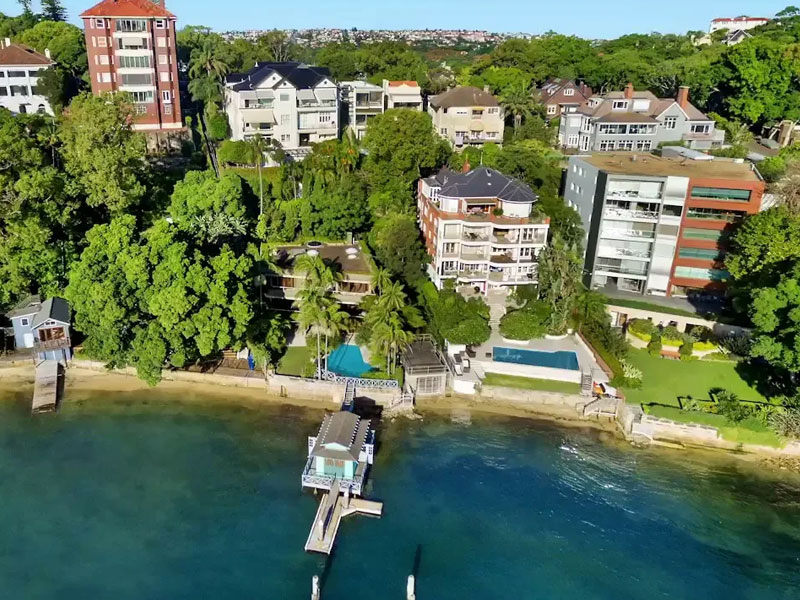 44 Wolseley Road for about $40 million in April last year, 18 months after it was first listed for sale with a jaw-dropping $60 million price guide.
Wolseley Road comprises 308 units, 1 townhouse, 67 houses, and 28 other dwellings, according to Domain data.
So it's easy to see, with such tight supply, why the street fetches such high prices.
Second on the list is Wunulla Road, also in the affluent suburb of Point Piper.
The street comprises 52 units, 1 townhouse, 51 houses, and 10 other dwellings, the prices of which routinely fetch in the 10s of millions for houses and over a million for a 1 bedroom apartment.
In fact, Point Piper is home to the top 3 most expensive streets in Sydney.
The remaining 7 can be found in Tamarama, Vaucluse, Bellevue Hill, and Mosman.
Strong growth ahead for Sydney property prices in 2022
I see Sydney's property market continuing to grow at the rate of 6 to 7% per annum throughout 2022 until eventually, affordability slows the market down.
There is little doubt that macroprudential controls will have a negative impact on our property markets and slow the rate of growth of housing values.
After all, that's what they're intended to do.
Whether the markets will just experience slower growth or stop dead in their tracks will depend on what measures are introduced.
However, as the Sydney property market is slowing naturally as a result of affordability constraints and greater choice for buyers, hopefully, APRA will remember its lessons from the past and stay out of the market now.
I hope they have learned from the results of previous interventions, otherwise, if history repeats itself, there will be some unintended consequences.