Please use the menu below to navigate to any article section:
Housing values in Sydney rose by another 0.8% in October, adding roughly $9,000 to the median value of a dwelling.
Since values started rising in February, the markets recovered by 11.6%.
Sydney Housing Market Update | November 2023
You can also check out the local reports for Brisbane and Melbourne.
Yet values still remain 2.2% below the record highs from early 2022.
The pace of growth is still quite rapid, especially given the affordability challenges that persist across the market, but values aren't rising as quickly as they were around the middle of the year when the monthly growth rate reached 2%.
The slowdown is occurring alongside a rise in vendor activity, with the flow of new listings added to the market rising 14% since the end of winter, and total listings rising by 9.3%.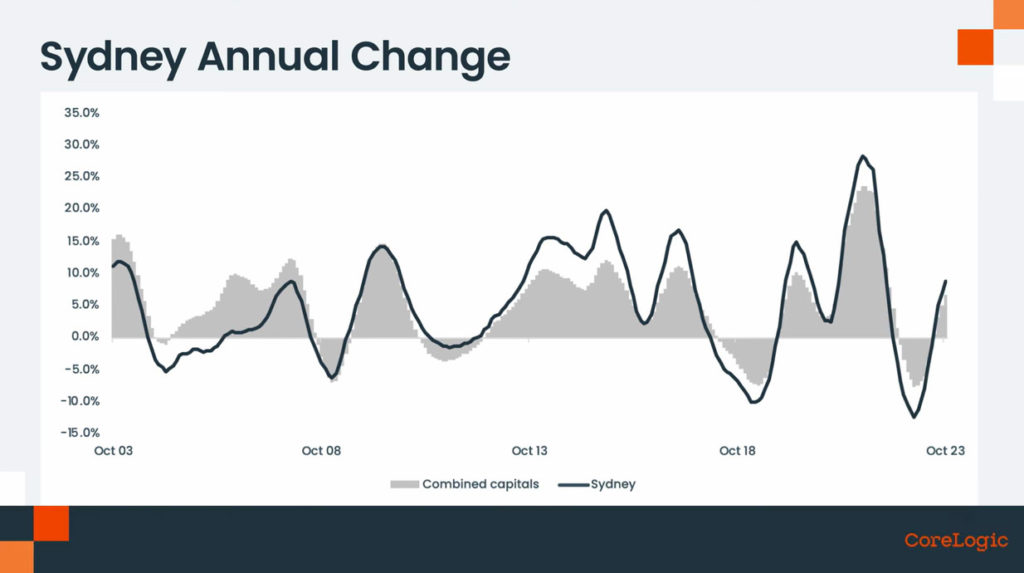 Here's what's currently happening in Sydney
Australia's house prices reached record highs during the peak of Covid-19, with our most expensive city – Sydney – leading the pack.
But now, prices have cooled with large declines seen across the board.
Sydney's house prices have fallen 14.7% year-on-year to a new $1.21 million median, and units are down 10% to a median price of $769,773, according to CoreLogic data for March.
Even regional NSW isn't immune, with dwelling prices dropping 7.1% over the same period.
| Property | Median price | MOM | QOQ | Annual |
| --- | --- | --- | --- | --- |
| Capital city dwellings | $1,006,923 | 0.30% | -2.40% | -13.40% |
| Capital city houses | $1,217,308 | 0.30% | -2.50% | -14.70% |
| Capital city units | $769,773 | 0.10% | -2.20% | -10.00% |
| Regional dwellings | $684,764 | -0.50% | -2.90% | -7.10% |
But PropTrack reports Sydney dwelling prices are still up 21.4% since March 2020 at the beginning of the pandemic.
What is noticeable though is that over the last month or two the sentiment of both Sydney property buyers and sellers has shifted.
Buyers are no longer prepared to take shortcuts of compromise in order to secure a property like they were during the recent property boom.
They're more cautious, their pockets are more shallow and their borrowing capacity is significantly reduced.
At the same time, sellers hesitate, holding off from going to market amid uncertainty, which is causing a slowdown in the number of new listings.
Usually, every year during the first half of March – referred to as weeks nine to 11 on the calendar – there is a surge in listing activity.
But not in 2023.
Nationwide, this year 8,721 new listings were added to the market in 'week 11' (March 11-19), down 27.3% compared to the same time last year, and 21.3% below the previous five-year average.
So far in 2023 new listings nationally have been tracking 18.0% below 2022 levels.
For Sydney, new listings are 13.2% below the previous five-year average and almost 23% lower than a year ago.
But, as we know, Sydney's market is not a one-size-fits-all property market.
While prices have since cooled from their peak across the city, some of Sydney's most sought-after areas continue to fetch impressive prices.
There is a clear flight to quality with A-grade homes and investment-grade properties still in short supply for the prevailing strong demand, but B-grade properties are taking longer to sell and informed buyers are avoiding C-grade properties.
After all, some of the city's suburbs are so tightly held that an available property for sale comes around once in a blue moon with homeowners holding onto their houses for as long as 20 years.
And areas in lifestyle or coastal suburbs are still in particularly strong demand as homebuyers wait to secure their dream property.
At Metropole Sydney we're finding that strategic investors are looking to take advantage of the window of opportunity currently available to them, while homebuyers are still actively looking to upgrade, picking the eyes out of the market.
While overall Sydney property values are likely to fall a little further, like all our capital cities there is not one Sydney property market, and A-grade homes and investment-grade properties remain in strong demand and are likely to outperform, many holding their values well.
In other words, the various sectors of the Sydney property markets will be fragmented, which is a more "normal" property market.
There is broad consensus amongst economic forecasters that Sydney's property markets will continue to fall before recovering once the Reserve Bank's interest rate hikes have stabilized.
Here are some of the most recent forecasts:
ANZ Bank forecast Sydney property values could decrease 8% in 2023
CBA forecast Sydney property values could be flat in 2023
NAB forecast Sydney property values could decrease 9.4% in 2023
Westpac forecast Sydney property values could decrease 8% in 2023
SQM forecast Sydney property values could increase 9% in 2023
PropTrack forecast Sydney property values could decrease 8-11%
These forecasts are dependent on the Reserve Bank finishing up its cycle of interest rate increases in order to get on top of inflation, which, according to some forecasts, could be very soon.
These predictions come in response to a recent rapid rate tightening cycle implemented by the RBA, which some banks believe may be negatively impacting the economy by slowing growth and job creation.
While most banks believe that the RBA will cease rate hikes by May 2023, Commonwealth Bank believes that rates may not even reach that high, and that rate cuts could be implemented as early as later this year.
This forecast is based on the bank's assessment that inflation will decrease more quickly than anticipated, thus giving the RBA the leeway to lower interest rates to stimulate the economy.
However, the RBA doesn't really know what it's going to do – it decides each month and may continue to implement its current policy until it believes that the economy is stable enough to warrant a change.
Of course, it is possible that unforeseen events, such as changes in global economic conditions or domestic politics, may impact interest rate decisions in ways that are difficult to predict.
Sydney is now a buyer's market
The landscape of the housing market in New South Wales has shifted rapidly from a seller's market to a buyer's one.
Buyers no longer suffer from FOMO (fear of missing out) or are willing to take shortcuts like they were at the height of Sydney's property boom.
They're more cautious, their pockets are more shallow and their borrowing capacity is significantly reduced and many sellers are having to readjust their pricing expectations to match.
But, importantly, buyer demand is still strong which means auction rates for the properties which are being sold are continuing to track at the highest levels seen in nearly a year, pushing the city's property market into revival mode.
Sydney recorded a clearance rate of 69.5% over the third weekend in March which was lower than the 74.5% recorded last weekend and also lower than the 73.7% recorded over the same weekend last year.
The North West reported the highest regional clearance rate at the weekend with 78.7% closely followed by the City and East with 76.0%, and the Northern Beaches with 74.3%.
The Central Coast again reported the lowest clearance rate at the weekend with 37.2%.
The clearance rate for houses was 71.6%, with units well below again this weekend at 63.1%.
The resurgence of buyer interest in the Sydney property market and rising clearance rates suggest there are more buyers than there are sellers, and this usually leads to higher property prices.
More investors are getting into the Sydney market now recognising that there are bargains to be found and that in 12 months' time, the properties they purchased today will look like a bargain.
However, there is currently a flight to quality, with A-grade homes and investment-grade properties selling quickly often within days of coming onto the market.
Sydney's Property Top Performers 2022
2022 was a challenging year for all our property markets as cash rate hikes, lower borrowing capacity, and cooling demand took a toll on prices throughout the city, however, the Sydney real estate market remains very resilient.
Of course, there is not one "Sydney property market" and some segments outperformed others.
Here are some of the best performers for NSW in 2022, according to CoreLogic's Best of the Best report 2022:
These are the Sydney Suburbs with the top sales in 2022
The best of the best in Sydney's property markets
As Australia's largest city, Sydney's housing markets are vast and diverse.
These are some of the best-performing segments for Sydney's houses and units.
And these are top-performing locations in regional NSW for houses and units.