Sydney property market is forecast to grow strongly in 2021, with well located houses likely to produce double digit capital growth.
Sydney recorded a fourth successive month of rising home values, with the index for combined houses and units up 0.4% over the month of January 2020.
Stay in the know. Subscribe to our property commentary newsletter.
You can also check out the local reports for
Brisbane
and
Melbourne
.
Although housing values are rising, Sydney home values remain 3.5% below their mid-2017 levels, indicating homes are more affordable than they were four years ago.
The trend towards higher values is confined to houses where the market is up 3.1% since finding a floor in September.
In contrast, unit values have continued to fall, down a cumulative 3.7% since the onset of COVID.
The diverging trend between houses and units can be attributed to stronger demand for lower density styles of housing, along with supply constraints outside of the unit sector.
The Sydney sub-regions showing the strongest capital gains are the Northern Beaches, where values are up 4.4% over the past three months, and the Central Coast with a 4.1% lift in values over the same time frame.
Here's what's currently happening in Sydney
The Sydney property market is going gangbusters.
Extremely strong demand for houses in Sydney, particularly in the inner and middle ring suburbs, is likely to lead to double digit price growth over the next 12 months. However, the demand for apartments is likely to remain softer.
While well located, family friendly apartments in Sydney's inner suburbs are likely to perform strongly due to increasing demand from owner occupiers and investors, apartments in high-rise towers are likely to continue to languish.
Real estate in Sydney's larger regional locations, and in particular in lifestyle locations like Byron Bay, the Central Coast, the Hunter Valley, Wollongong, New South Wales' south coast should perform strongly this year with beachside suburbs likely to outperform the wider overall market
The landscape of the housing market in New South Wales has shifted rapidly from a buyer's market to a seller's one.
The resurgence of buyer interest in the Sydney property market has meant that auction clearance rates have consistently been in the high 70% – 80% range suggesting there are more buyers than there are sellers and this always leads to higher property prices
More investors are getting into the Sydney market now recognising that there are no bargains to be found, and that in 12 months time the properties they purchased today will look like a bargain.
However, there is currently a flight to quality, with A grade homes and investment grade properties selling quickly.
However B grade (secondary) dwellings are languishing on the market and C grade properties are having real difficulty finding a buyer.
Sydney's Property Top Performers 2020
2020 was a challenging year for all our property markets due to COVID-19, lockdowns and a recession, however, the Sydney real estate market was very resilient.
Of course, there is not one "Sydney property market" and some segments outperformed others.
Here are some of the best of the best for Sydney's housing markets in 2020: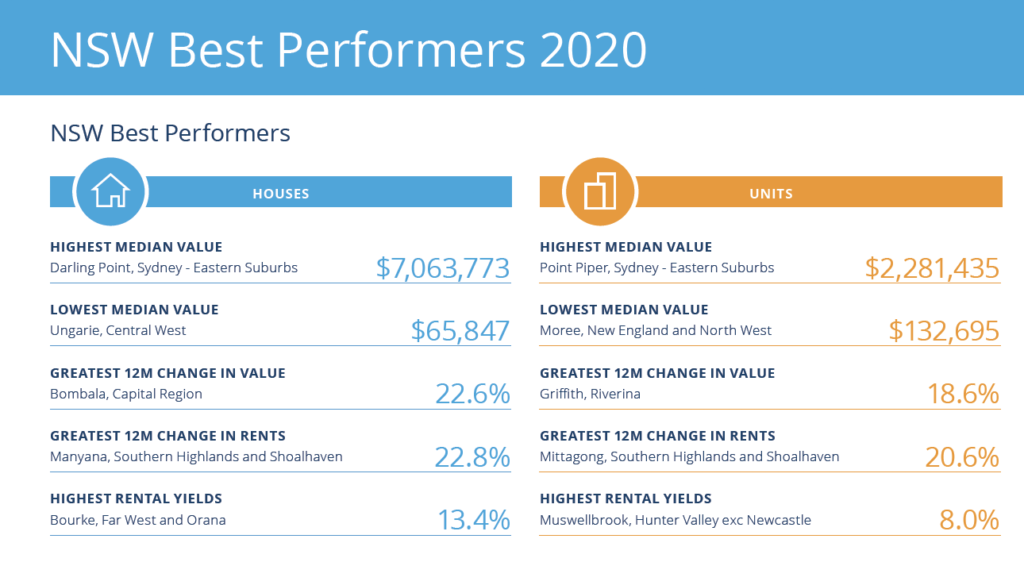 These are the Sydney Suburbs with the top sales in 2020.
The best of the best in Sydney's property markets
As Australia's largest city, Sydney's housing markets are vast and diverse.
These are some of the best performing segments…
And these are Regional NSW top-performing locations.